PakNet Interface module - Co-axial / Ethernet Proxy converter
Product Overview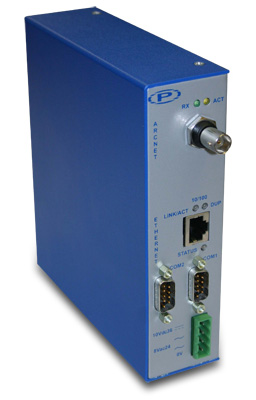 The PakNet Interface module is a Co-axial / Ethernet Proxy converter that enables Ethernet communications to be routed across existing co-axial networks. Retaining co-axial cabling represents a major cost saving when upgrading legacy networks on existing installations.
When combined with a Serial / Ethernet Convertor the PakNet Interface module provides a cost-effective solution to the replacement of legacy ARCNET hardware that passes Serial communications across a co-axial network.
The PakNet Interface module requires no configuration as the inter-node addressing is performed within the Serial / Ethernet hardware which they seamlessly interface with.
The "dumb" nature of the PakNet Interface module means only a single unit is required for each Workstation connection as "Virtual Port" software installed on the Workstation enables a maximum of 255 nodes to be interconnected.
PakNet Interface modules can be powered from either low-voltage AC or DC sources.
Product Details
LED Status Indications
Co-axial & Ethernet ports
10/20 Mbps Communication
Low-voltage AC or DC powered
4 Pin Terminal providing:

1 off AC connection (Pins 2 & 3)
1 off DC connection (Pins 1 & 4)

Optional Panel or DIN-rail mounting
Standard 2 year Back-2-Base Warranty