CS300 2030 Lifecycle Program
Paktech Limited provides a complete support service for CS300 Systems with cost effective solutions that provide End Users with the tools needed to continue operating these highly reliable and secure legacy systems. Our "CS300 2030 Lifecycle" program provides the means to maintain and upgrade CS300 Systems; the benefits of "2030 Lifecycle" for End Users include:
Upgrade and refurbishment at a fraction of the cost of their replacement.
No loss of production availability due to lengthy downtime for Installation and Commissioning of replacement systems.
Eradicating the need for plant restructuring and retraining of personnel.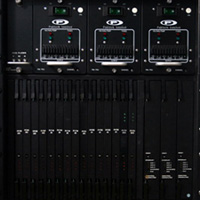 Paktech Limited offers a fully comprehensive Spares & Repairs service covering the full range of CS300 hardware. Our Repairs Unit holds sufficient levels of critical components to ensure that hardware can be repaired or replaced within the "CS300 2030 Lifecycle" offering; this provides for a 30 Day Turnaround for standard hardware and 90 Day Turnaround on bespoke items. Our Spares Unit maintains a comprehensive stock of both new and refurbished CS300 modules.
Our bespoke Spares & Repairs policies enable End Users to maximise the performance of their CS300 systems, minimise lifecycle cost and extend their operational viability beyond their original operational life expectancy through our "CS300 2030 Lifecycle" program.
Our System Support Unit provides End Users with added peace of mind through its 24/7/365 Telephone Support Line, 24 Hour Site Mobilisation offerings and comprehensive Test & Training facilities at our Rochester (UK) Facility.
Paktech Limited are resolving hardware obsolescence issues by developing Form, Fit & Function replacements such as the PIM PSU.
Our "CS300 2030 Lifecycle" offering provides for:
DOS to Windows application migration
PIM PSU Replacement
Field PSU Replacement
System Expansion
System Modification
System Refurbishment
Application Modification
24/7/365 Support Contract